DANCE STUDIO, Framingham,MA (Greater Boston area).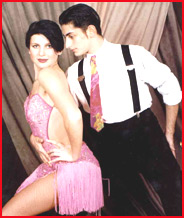 Professional and warm Dance School owned and operated by Thomas Shiloshvili and Ilana Meshkausk, the winners of the Israeli 10 Dance Championships and winners of the 3rd place in Standard at the North Eastern Championships in Stamford and 1st place in Latin at the Imperial Open championships. Thomas and Ilana had been teaching in one of the biggest Dance Studio in Israel and theirs students are the winners and the finalists of many dance festivals in Israel.
Thomas and Ilana were the members of the team of professional dancing instructors of one of the biggest Dance Studio in Boston, MA. Dance Studio specializes in social and competitive ballroom dancing for kids and adults and conveniently located in Framingham, MA in and have a very easy access from surrounding cities and towns of Natick, Norwood, Ashland, Southborough, Marlborough, Westborough, Weston, Holliston and many others. We are in a walking distance away from the T-station.
In our Dance Studio world-class instructors are available for coaching in all styles of Ballroom- Waltz, Foxtrot, Tango and Latin dancing-Rumba, Samba, Cha Cha, Salsa, Jive, Swing. Dance Studio also has classes in dance technique to improve your balance, form, and leading ability.
Group ballroom dancing classes are a good place to start. if you are not sure which dance most interests you or you would like to get used to dancing with others, Since our Dance Studio features group classes in all levels and dances, it's easy to get comfortable at the pace and level that's right for you.
Private dance lessons are the fastest way to improve your dance skills in both moves and technique because you have the exclusive attention of your instructor. If you are planning a wedding we will help you create first dance that reflects the spirit of your relationship--a joyful and harmonious start to your journey together. We'll also give you the skill and confidence to dance your way to a fun and romantic reception.
Thomas Shiloshvili and Ilana Meshkausk welcome you to the exciting world of ballroom dancing. We are proud to offer the finest ballroom and Latin dance experience in the best dance facility in Greater Boston area. If you think you have two left feet, we'll replace one of them with a good right foot, and in no time at all you'll be dancing like you've been doing it forever. We hope you and your friends can join us soon!
Address and Phone Number